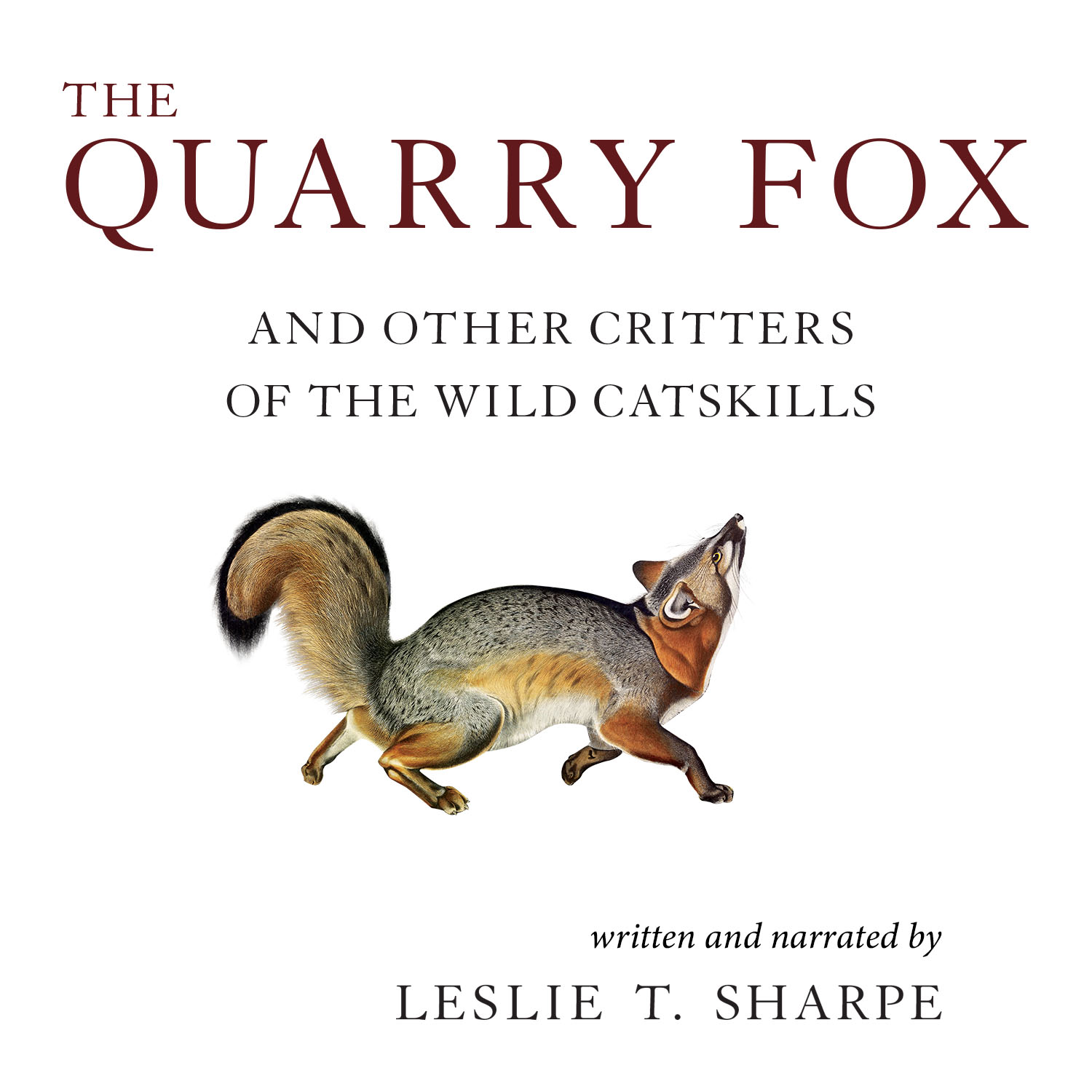 The Quarry Fox: and Other Critters of the Wild Catskills
by Leslie T. Sharpe
Narrated by: Leslie T. Sharpe
Unabridged; 7 hrs., 40 min.
ISBN: 9781094294452
"Her tone is warm and often animated. She offers clear, scientific observations and many notes of beauty and humor." –– AudioFile
Download a copy and support local bookstores at Libro.fm or wherever you download audiobooks.
In The Quarry Fox, Leslie T. Sharpe chronicles the seasons and the vibrant wildlife of a landscape she cherishes, offering her keen insights in an engaging narrative that celebrates the splendor of the natural world. From crafty foxes and hibernating bears to vulnerable monarch butterflies, The Quarry Fox explores the creatures of the Great Western Catskills in loving, lyrical detail.
Heir to John Burroughs, who tramped through these mountains more than a hundred years before her, Sharpe revisits the meadows, creeks, and bobcat dens, and invites us to come along for the trek.
---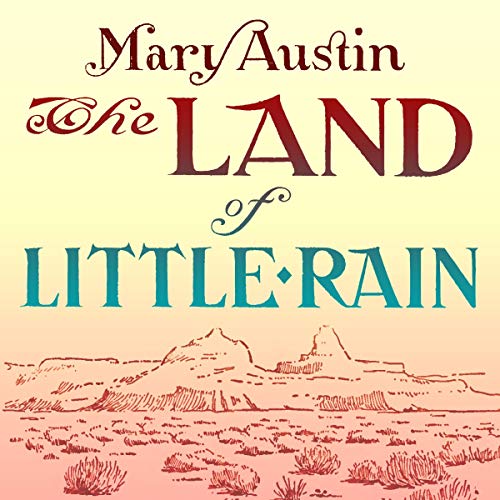 The Land of Little Rain
by Mary Austin
Narrated by: Ellen Parker
Unabridged; 3 hrs., 47 min.
Download a copy and support local bookstores at Libro.fm or wherever you get your audiobooks. You can also buy the limited-edition 3-disc set (limited to 100 signed & numbered copies) here!
First published in 1903, The Land of Little Rain is Mary Austin's classic homage to the American Southwest. Her collection of short stories and essays takes readers on an enchanted journey through Death Valley, the High Sierras, and the Mojave Desert. This first-ever audiobook edition is read by Emmy Award-winning actress, Ellen Parker, and received an Audiofile Earphones Award.
---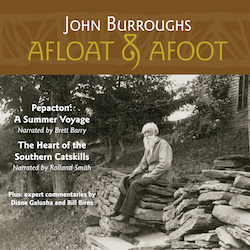 Afloat & Afoot       ISBN: 978-0979311581
John Burroughs
"John Burroughs' … timeless words are skillfully brought to life by narrators Brett Barry and Rolland Smith." – AudioFile
• John Burroughs' first time on audio!
• Two unabridged essays on 2 CDs; approx. 2.5 hours
• Narrated by Brett Barry & Rolland Smith
• Expert commentaries by Diane Galusha and Bill Birns
Download a copy and support local bookstores at Libro.fm or wherever you get your audiobooks. You can also buy the special 2-disc set here!
Afloat & Afoot is a celebration of John Burroughs, a Catskills native famous for his writings on the natural world that surrounds us all. This first-ever audio edition of his work includes a recounting of Burroughs' impromptu voyage down the Pepacton (now an important water source for New York City), and a recollection of his expedition to the top of Slide Mountain, the region's highest peak.
Burroughs' words are given new life by narrators Brett Barry and Rolland Smith; and his essays are followed by conversations with Burroughs experts Diane Galusha and Bill Birns. Listen to Burroughs, then hear why his work is as relevant now as it was in his time.
---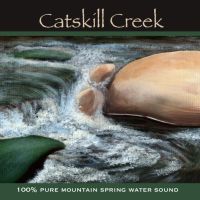 Catskill Creek
Silver Hollow Audio presents the soothing sounds of a Catskill Creek, bubbling and gurgling over pebbles and boulders through a wooded mountain hollow. The sound of gently flowing water evokes memories of peaceful days by the stream. Listen for relaxation or as an aid to meditation and rest. Recorded in Chichester, NY. Minimally packaged, with certified green components. Enjoy!
Recording and artwork by Stephanie Inserra.
CD $9.95
---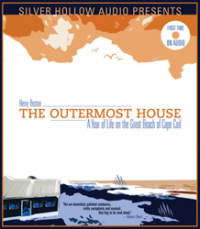 The Outermost House
A Library Journal "Best Audiobook"
A Cape Cod Life "Must-have"
• Including an interview with Beston's biographer, Dr. Daniel G. Payne
• Unabridged on 5 CDs; approx. 5 hours
• Narrated by Brett Barry
In 1926, Henry Beston spent two weeks in a two-room cottage on the sand dunes of Cape Cod. He had not intended to stay longer, but, as he later wrote, "I lingered on, and as the year lengthened into autumn, the beauty and mystery of this earth and outer sea so possessed and held me that I could not go."
Beston stayed for a year, meditating on humanity and the natural world. In The Outermost House, originally published in 1928, he poetically chronicled the four seasons at the beach; the ebb and flow of the tides, the migration of birds, storms, stars, and solitude. The landscape was his major character, and his writing provides a snapshot of the Cape, a place physically changed yet as soulful 80 years later. The Outermost House is a classic of American nature literature.
Henry Beston (1888-1968) was the author of many books, including Herbs and The Earth and Northern Farm. His Cape Cod house was declared a National Literary Landmark in 1964, but was destroyed by a winter storm in 1978.
5-CD set $29.95
---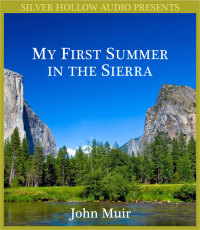 My First Summer in the Sierra
"Narrator Brett Barry is outstanding; he skillfully captures the language of an earlier America as his poetic delivery matches the beautiful descriptions. A wide audience of conservationists, ecologists, nature lovers, American history fans, and those who merely prefer worthwhile poetic writing will be well rewarded." – Library Journal, Nov. 2011
• Unabridged on 5 CDs; 6 hours
• Available on 5 CDs, or digital download
• Narrated by Brett Barry
It was June of 1869 when John Muir reluctantly accepted a job herding sheep from the central valley of California to the headwaters of the Merced and Tuolumne Rivers, high into the Sierra Nevadas and deep into the Yosemite region. He felt ill-equipped for the work, and yet the opportunity thrilled his adventurous spirit. With a notebook tied to his belt, he set out for a summer he would never forget.
My First Summer in the Sierra is Muir's classic account of that extraordinary journey. It was not published until 1911, by which time he had become well known for his work as a naturalist and conservationist. One hundred years later, we can still experience Muir's transcendent joy, as he climbed the mountains, explored the lakes and streams, and studied the region's flowers and trees. His words have since beckoned countless travelers to Yosemite National Park.
John Muir (1838-1914) was born in Scotland but became a fierce and influential advocate for conserving America's wilderness. An author of numerous books and articles about travel and nature, he founded the Sierra Club and served as its president until his death.
5-CD set $34.95
---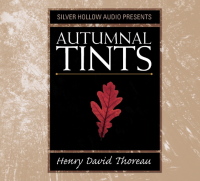 Autumnal Tints
A Library Journal "Editor's Pick"
• 72-minute CD; or digital download
• Narrated by Brett Barry
From the purple grasses of August, to the yellow elms of October, to the scarlet oak leaves of November, Henry David Thoreau casts his eye on the brilliant colors of autumn and guides us on a journey through the season's bounty. In this classic essay, first published in 1862, Thoreau delights in fall's foliage and reveals both a practical and philosophical understanding of the changing environment.
Now available in audio for the first time, Thoreau's essay is the perfect travel companion for those out to discover one of America's natural wonders.
Henry David Thoreau (1817-1862) is America's most revered chronicler of nature. His major work, Walden, is a much beloved classic about his years spent in a cabin on the shores of Walden Pond. But Thoreau wrote prolifically during his short life, including journal entries, poems, and travelogues, as well as numerous lectures and essays on natural history and social reform.
"Autumnal Tints" is one of Thoreau's best known essays. Written as a lecture, which he delivered in 1859, the text was first published in the October issue of The Atlantic Monthly, just months after his death in May, 1862.
CD package $8.95
---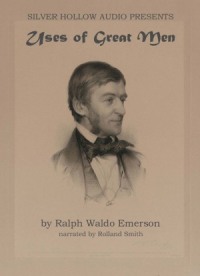 Uses of Great Men
• Unabridged 49-minute digital download
• Narrated by Rolland Smith
In 1845, Ralph Waldo Emerson, American poet, philosopher, and father of the Transcendental movement, began a series of lectures in which he called attention to men whom he felt embodied the spirit of the burgeoning republic. Emerson later published the lectures, led by "Uses of Great Men," in his book, Representative Men.
Returning here to its original oral format, "Uses of Great Men" is narrated by veteran broadcast journalist and poet Rolland Smith. Smith has nearly fifty years experience in his field, with eleven Emmy awards to his credit. He is the author of three books of poetry and commentary.
Digital Download: $3
---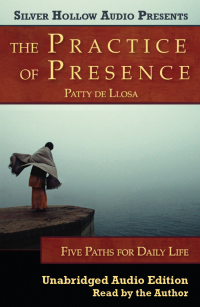 The Practice of Presence

"The Practice of Presence is a warm, welcoming, and wise testament to a life of search well lived, and an invaluable source of advice to those who would wish to live equally well." – Parabola
Written by Patty de Llosa
Read by the author
Unabridged download (12 hours)
Listen as Patty de Llosa takes us on a journey of discovery through mind, body and spirit, encouraging us to practice presence. Each of the five spiritual paths she explores can lead to a more authentic, extraordinary life of daily awareness.
Digital Download $19
---